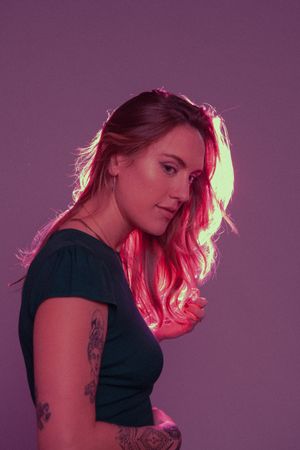 Biography
When something is in your blood, it's easy to take for granted. But if the last few years have taught Lilly Winwood anything, it's that nothing is set in stone. Mixing salt-of-the-earth songwriting with a graceful splash of old-world sophistication, the Americana songstress reached a long-sought milestone with her 2021 album debut, Time Well Spent, only to feel like the clock had run out. But with her follow-up LP, Talking Walls, a weary creative heart has something to say once more.
"It's exciting," Winwood says, speaking not just of her latest project, but also the musical passion encoded in her DNA. An eclectic fusion of trans-Atlantic roots-music styles, hers is an unpredictable sound of opposing forces, with its feet firmly on the ground and head in the clouds – quite literally.
The daughter of Grammy winning British rocker Steve Winwood (Traffic, Spencer Davis Group), Lilly grew up splitting time between the U.K. and Nashville's neon-lit streets, with the family often visiting her mother's hometown. Back then music was ever present, she says, and whether performing with her older brother, writing teenaged odes to young love or just soaking in her father's work, it gave Winwood a unique creative perspective – one that felt more in line with Nashville than London.
"It's hard to translate to people what my upbringing was like," she says. "I feel like I grew up in mid air, between Nashville and the U.K. But I have known Nashville my whole life."
Moving to Music City for good at 18, Winwood soon gravitated to the alternative-minded enclave of East Nashville, and after forming creative partnerships with locals like Boo Ray and Allen Thompson, released her Silver Stage EP in 2017. Time Well Spent followed in 2021, earning accolades from tastemakers like Rolling Stone Country as she solidified a go-your-own-way sense of earthy pop. But the grueling album process had burned her out. And combined with the pandemic, she thought her musical journey was over. Winwood took a job to pay the bills … but she couldn't stop writing.
"I'd be working in a restaurant all day and then at night, come 3 a.m. I'd be pulling half-written songs out of my apron," she recalls. "Then it all came together."
She was on the cusp of something, she could feel it. And when she decided to get sober, the floodgates opened. Talking Walls captures that tumultuous period, with Winwood literally "talking to the walls" as she looked inward with new purpose. While her first album was created "by the book," this project tore the book to shreds, and "it's been the most comfortable I've felt," she explains.
Penned over long sleepless nights, with clear eyes and a willingness to ask tough questions, each song takes a different tack into the introspective wind, backed by a minimalist-roots sound. Blending equal parts swagger and vulnerability, and with her soul-folk vocal floating above it all, Winwood simply wrote her story and brought it to her band at Nashville's Trace Horse studio – no producer needed.
"I feel like for some reason, when I put all the pressure away, I was able to write again in my truest sense," Winwood explains. "Just sit down and take that weight off my shoulders, and it all sort of came to me. Song after song after song, and once you have that belly full of inspiration down on paper, you're like 'Hell, I want to get this out. I want to show this to the world.'"
Her experience with sobriety was especially inspiring.
"It gave me this whole new view on songwriting, and I think I came out of it with a much more serious sense," she says. "The songs were suddenly coming from a really real place, and whether I wanted to or not, I was definitely getting in touch with myself for the first time in a long time."
Describing it like "painting with sound," Winwood spent hours alone with just a guitar and a pen, getting to know herself and the world she'd long kept at arm's length. No longer trying to impress anyone, each track features the weary sense of freedom that comes with letting down one's guard – and the title itself speaks to that freedom. Part of the resilient ballad, "Long Haul," Talking Walls is a tribute to how the songs were written, and the change they instilled.
"It's an ode to letting people down – but for a good reason," she says. "There's a line that says 'Learning how to read a room / By talking to the wall,' and it was like trying to figure out how to be around people again … but I need to be myself first."
Likewise, she mixes a steady throb of up-all-night angst with a gentle country-rock vibe of dreamy clarity in "Sleep Issues." "Airplane" reaches new spiritual altitudes with its slide-guitar soul rock. "A Paper Trail of Broken Hearts" investigates the failed love of acid-trips gone by, and "Idastoned" uses 12-string guitar and bluesy vocals to create a jaunty blast of old-time pop.
Meanwhile, the album closing "Laundry Day" is both stained by heartbreak, and liberated by the end of a romantic cycle. Both heady and built around the most mundane of chores, it's a fitting reminder that in this unpredictable world, hearts can wash clean when you least expect it – and so can creative souls.
"I want this to inspire people to keep going with their art," Winwood says. "Even though it may seem like they're not in a good space now, don't give up on it. Keep talking to the walls."